Reminder - Chromebook Collection Mon., May 23, 2022 for 2nd & 3rd Grade Please Have the Device Fully Charged; signed out of google & powered down. Bring: 1. Chromebook; 2. Chromebook Bag; 3. Chromebook Charger; 4. Mouse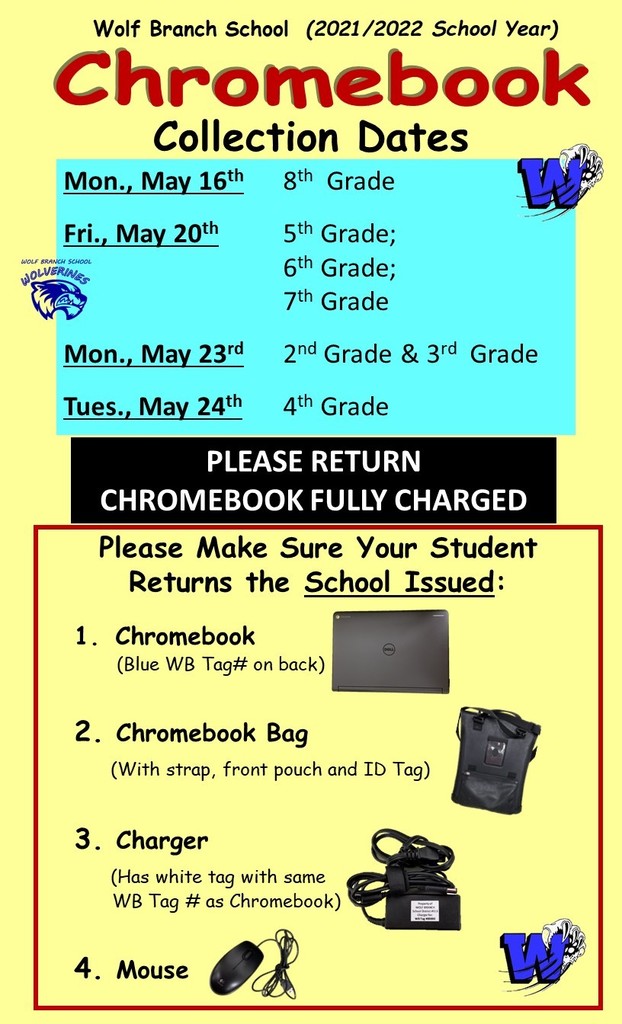 Choral Participation Awards & 8th Grade Choral Award Congratulations!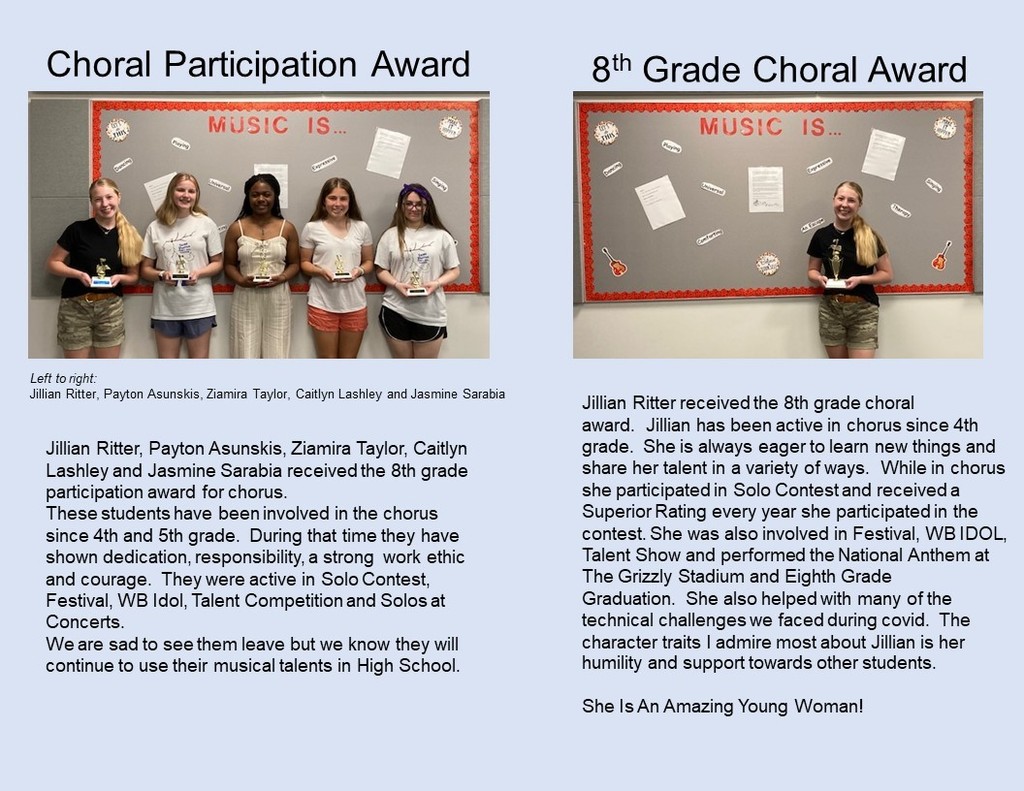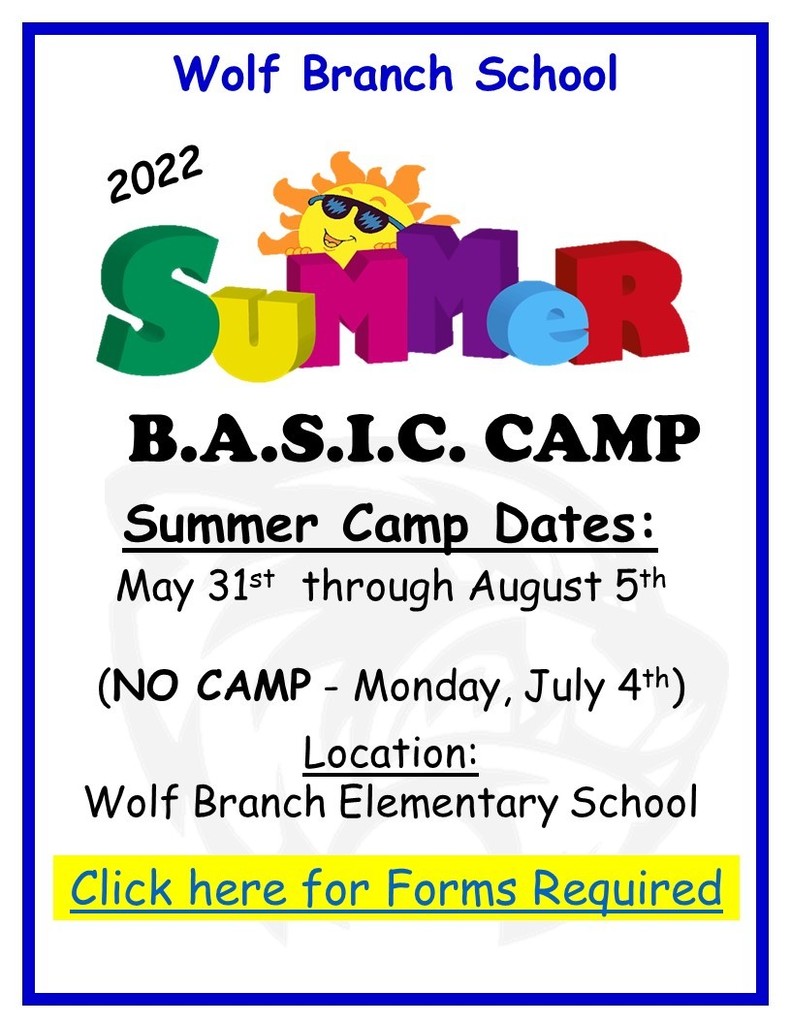 Thank you to the Swansea Rotary for bringing our middle school students Dilly bars today! We also appreciate you honoring our 8th grade students monthly at your rotary meetings.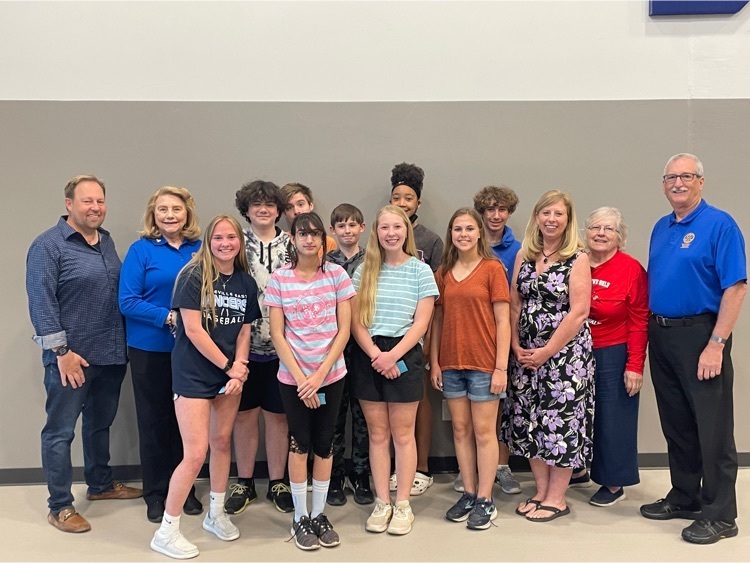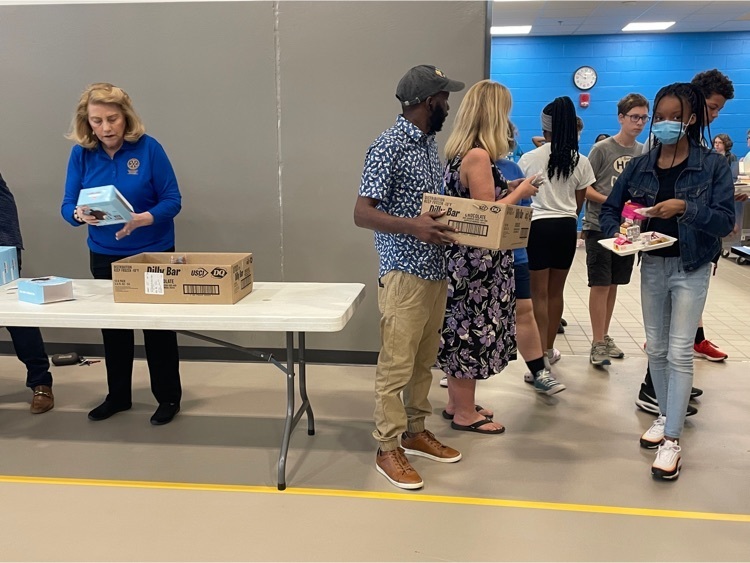 Thank you so much to Chase Cooley for choosing Wolf Branch Middle School to complete his Eagle Scout project at! He did a great job of painting lines for our basketball hoops! 🏀💙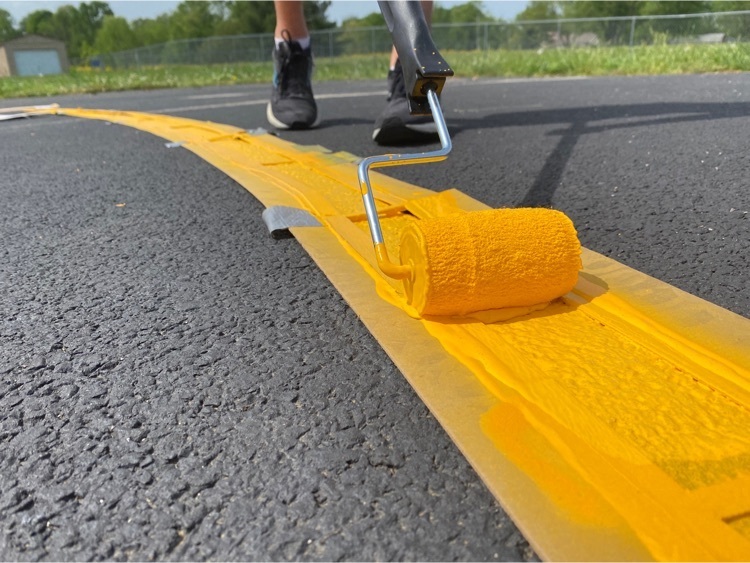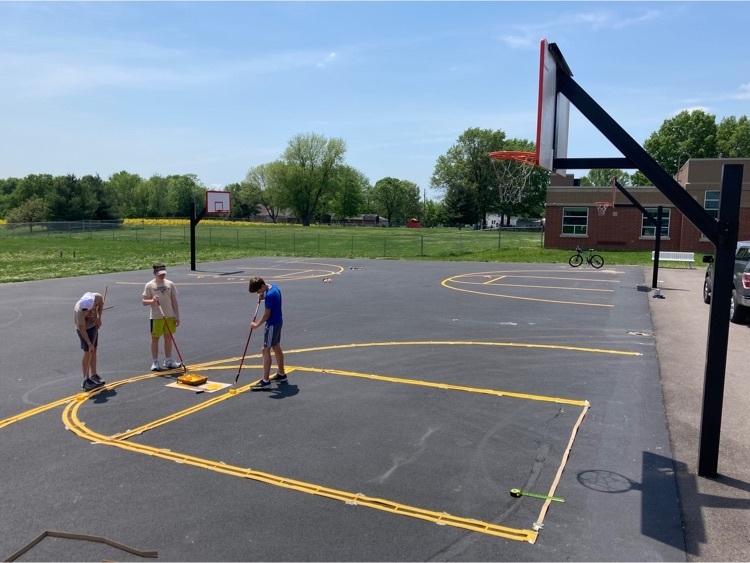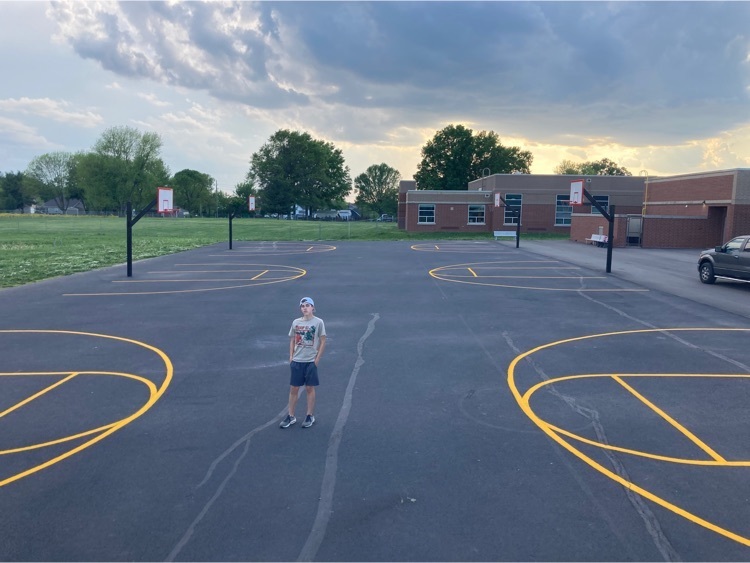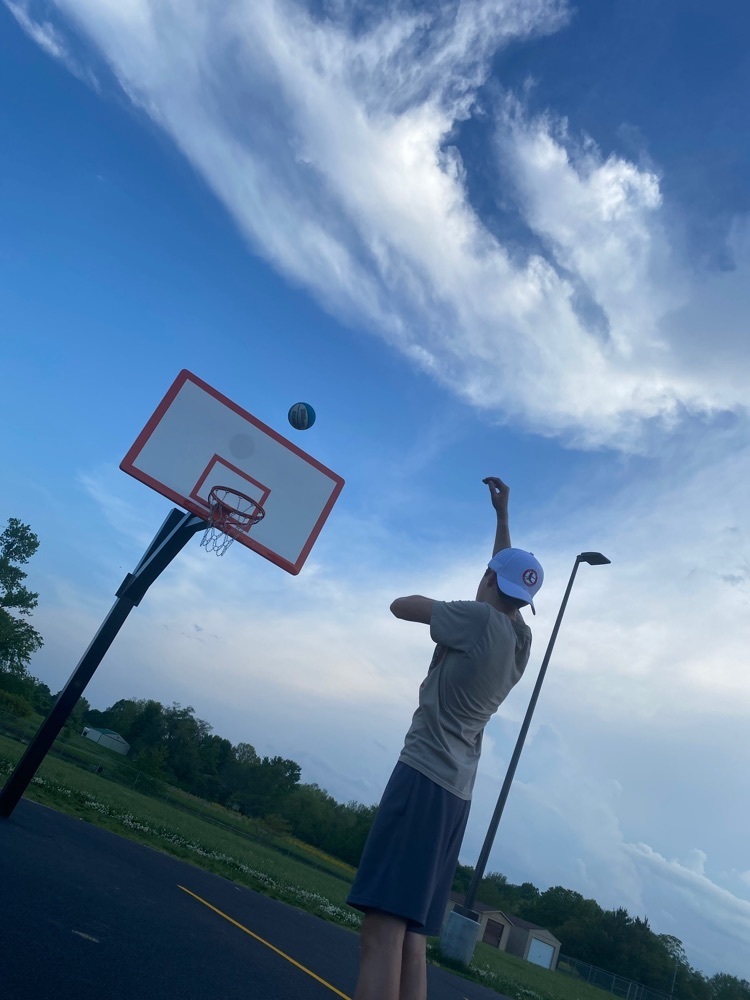 CHROMEBOOK COLLECTION DATES Please note the date of your student (s). Please remember to the School Issued Devices back with the following: 1. Chromebook; 2. Chromebook Bag (with front pouch, strap & ID Tag); 3. Charger (WB # will be same as chromebook & on bag); 4. Mouse (if they took one) PLEASE RETURN THE CHROMEBOOK FULLY CHARGED

Wolf Branch School Looking for a BASEBALL COACH Interested: Contact Mr. Nick Knolhoff at
nknolhoff@wbsd113.org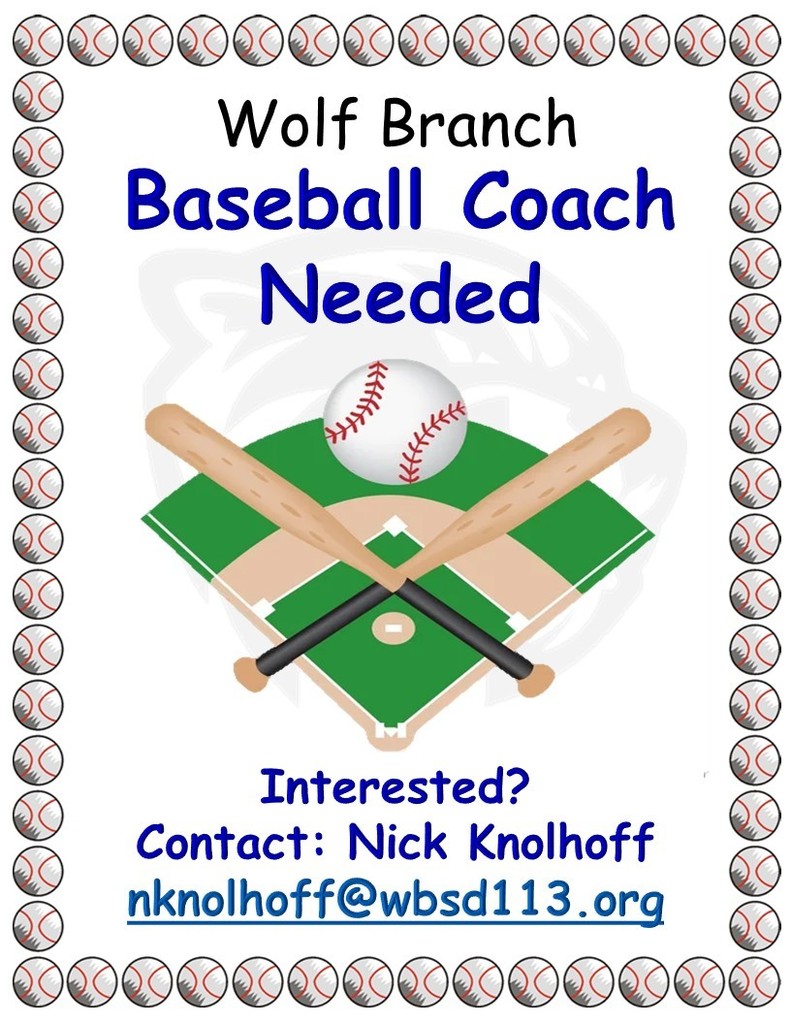 2022 Elementary Flower Day Fri., May 13, 2022 Please bring flowers Thurs., May 12 or Fri., May 13. Please put you child's name and homeroom on flower. Extra Flowers are Welcome!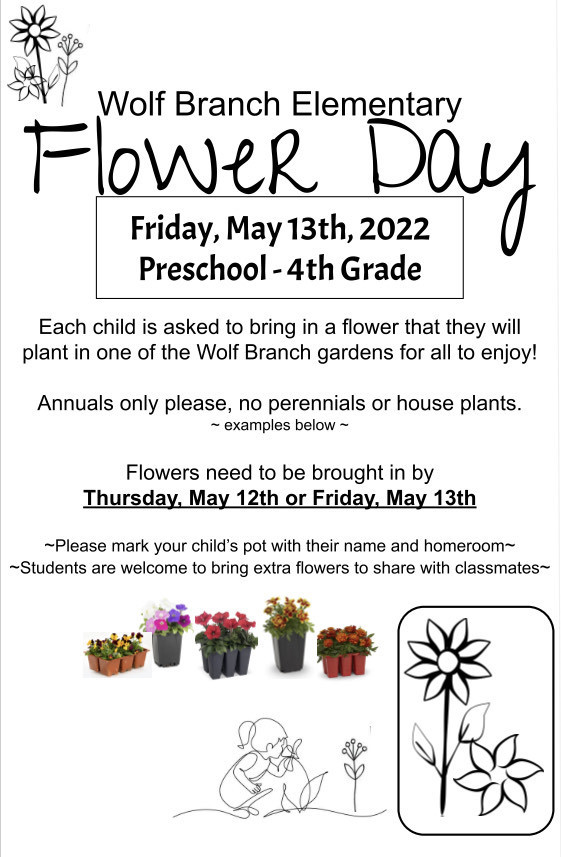 *** REMINDER *** ALL LIBRARY BOOKS for Elementary School & Middle School are due Wed., May 11, 2022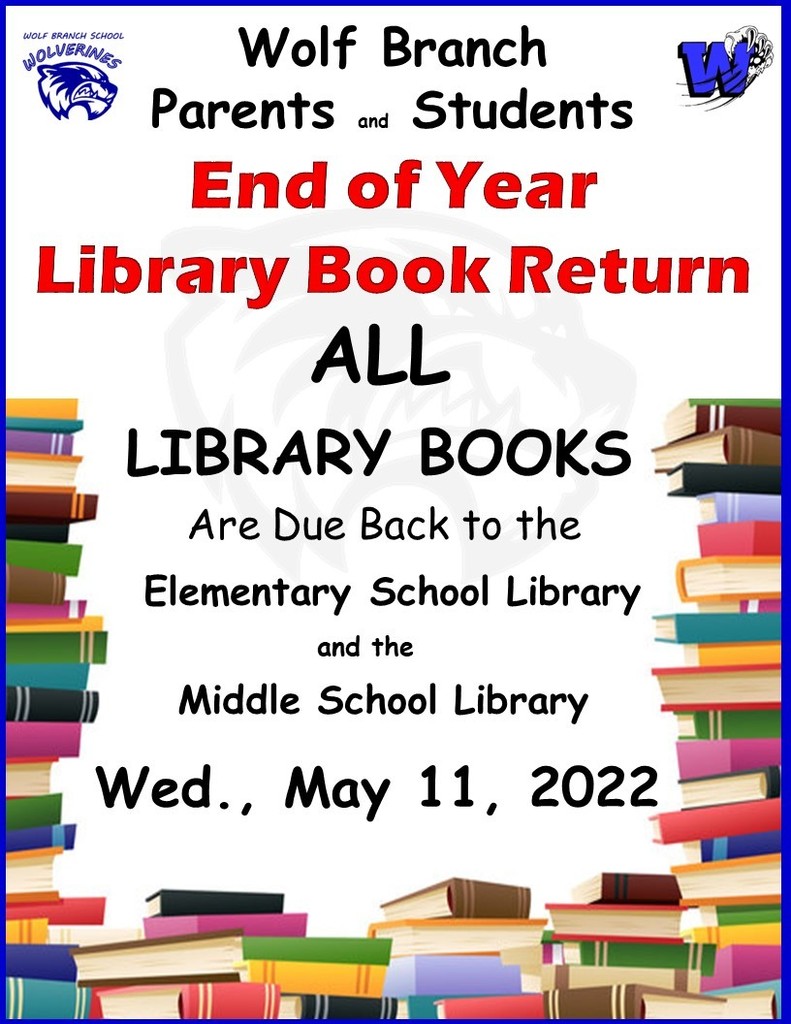 2022 Wolf Branch Summer Camps Now On-Line Go to the Wolf Branch Website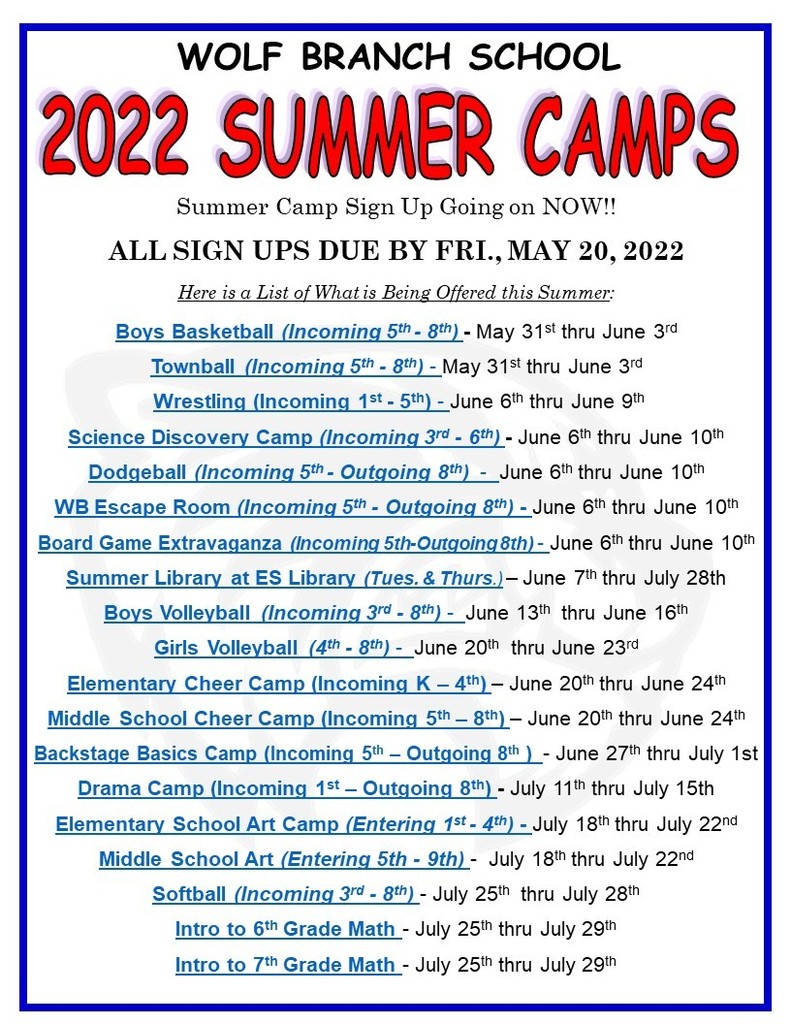 Wolf Branch's Got Talent Show Fri., May 6, 2022 - 6:30 p.m. Middle School Cafeteria Come See Some Talented Students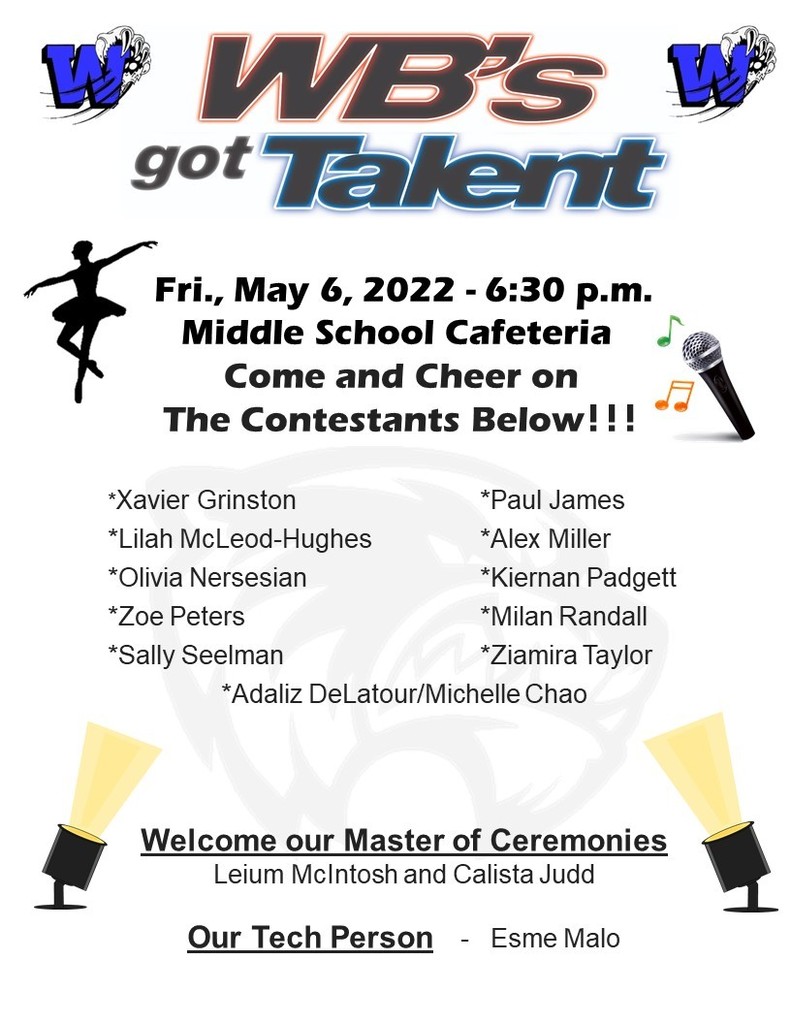 Wolf Branch Elementary NEEDS YOU Special Education Teacher Postition Open

Summer Skate Card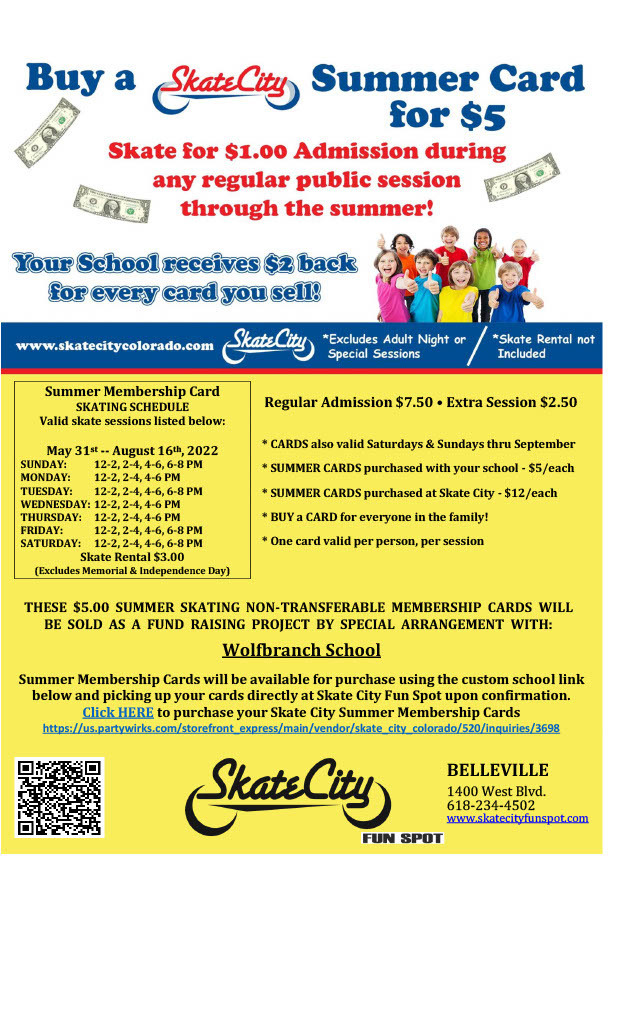 Wolf Branch 2022/2023 PRE-K Exciting News - will be ALL DAY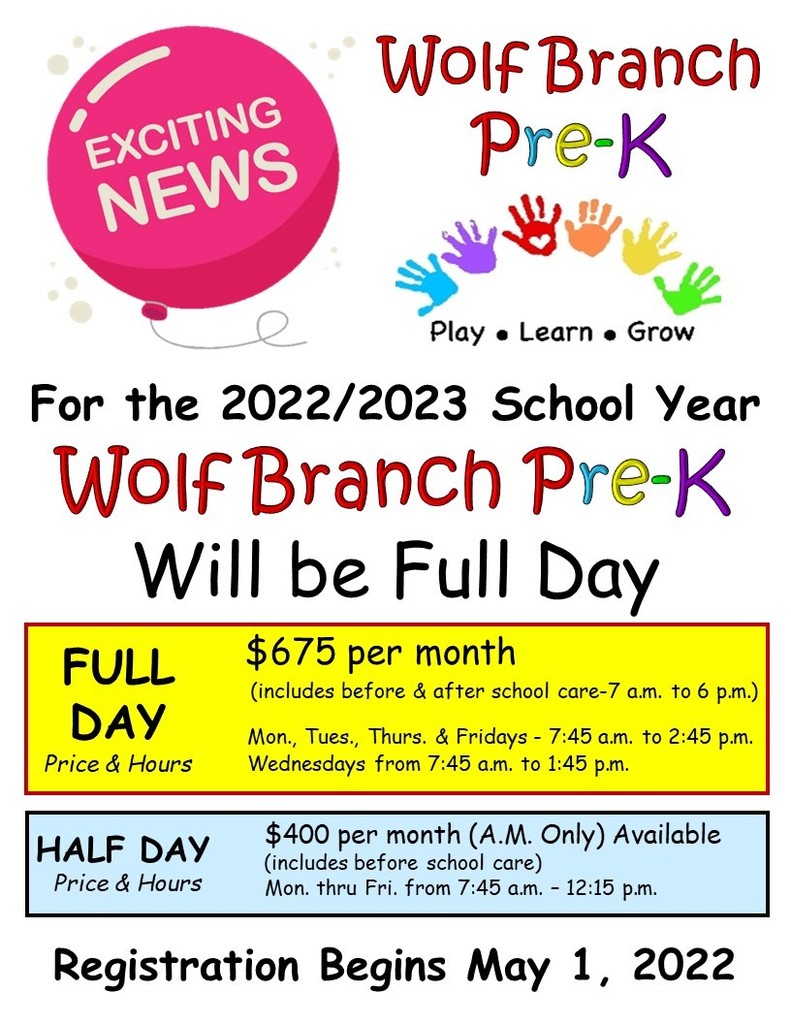 Wolf Branch 2022-2023 School Year Registration STARTS Sun., May 1, 2022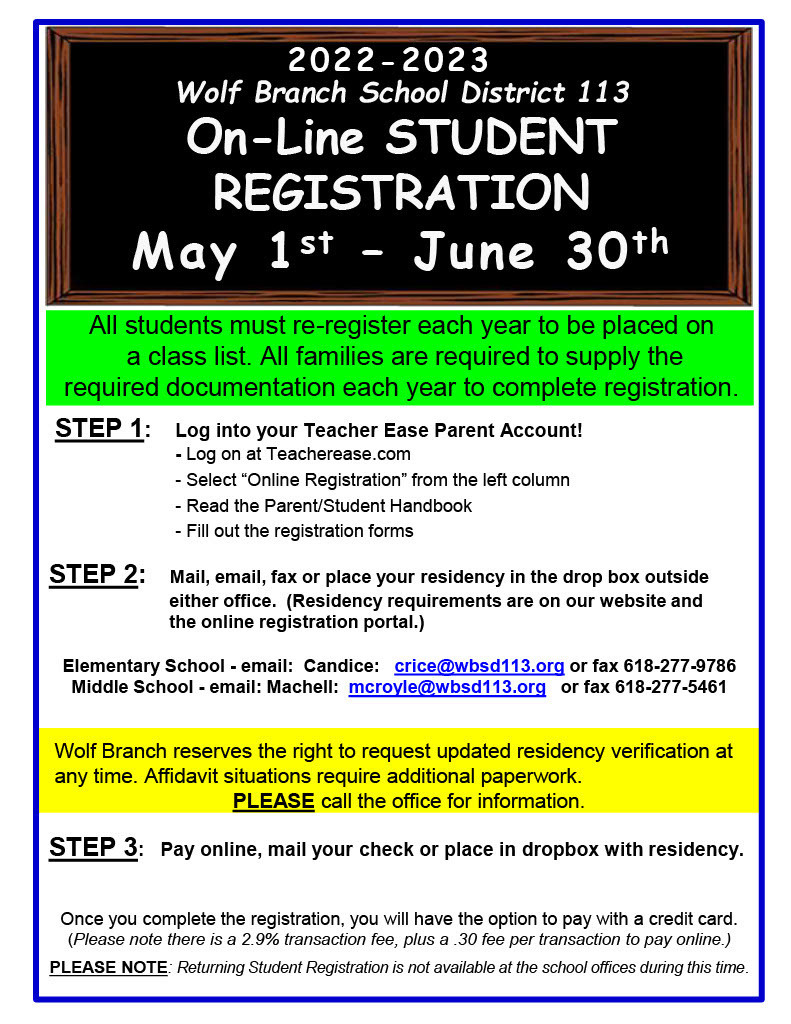 Wolf Branch Art Night Thurs., May 5, 2022 - 4:30 - 5:30 p.m. Middle School Cafeteria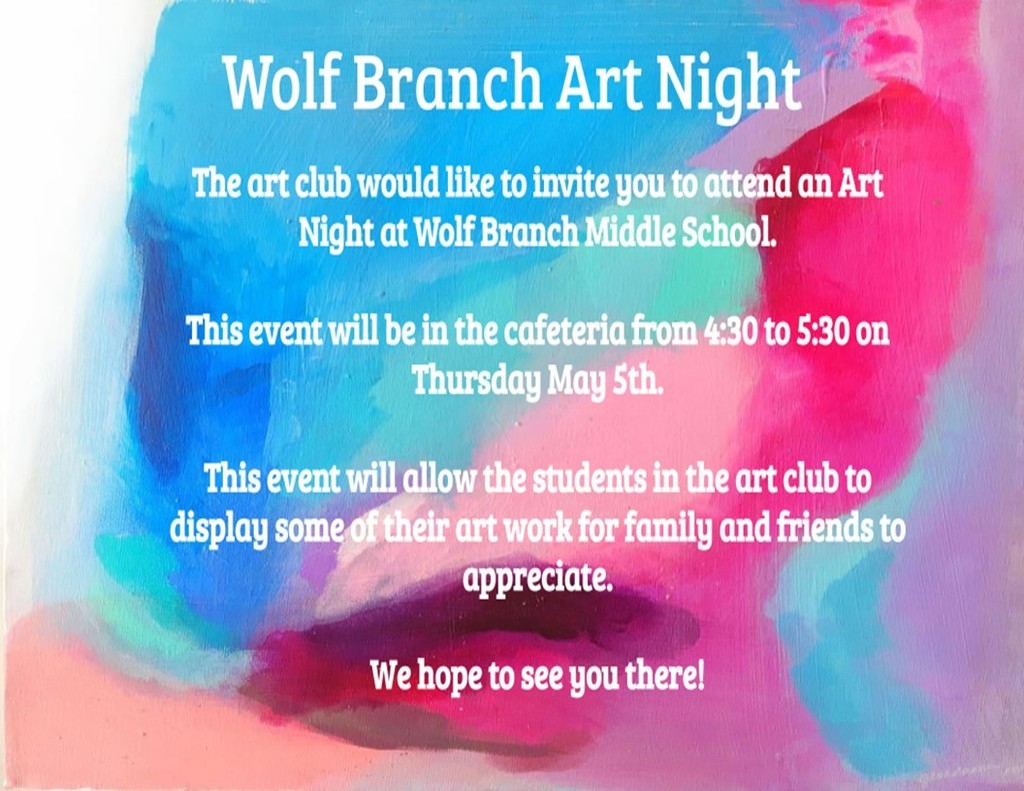 Wolf Branch Lunch Menus MAY, 2022 Elementary School & Middle School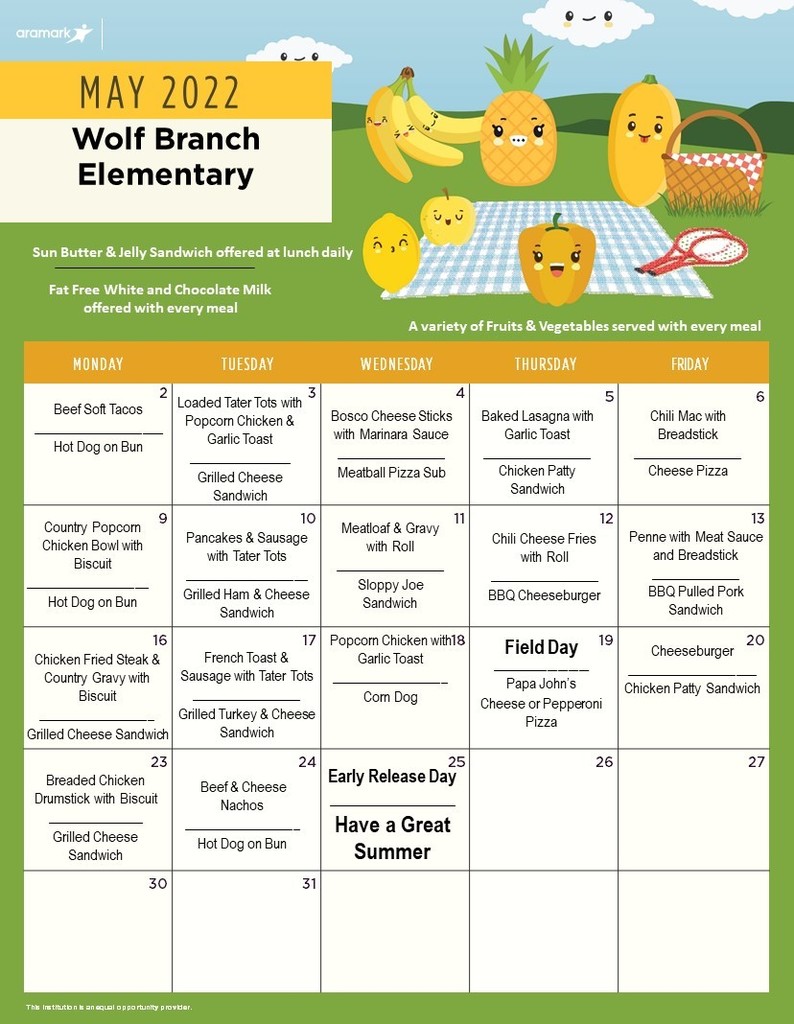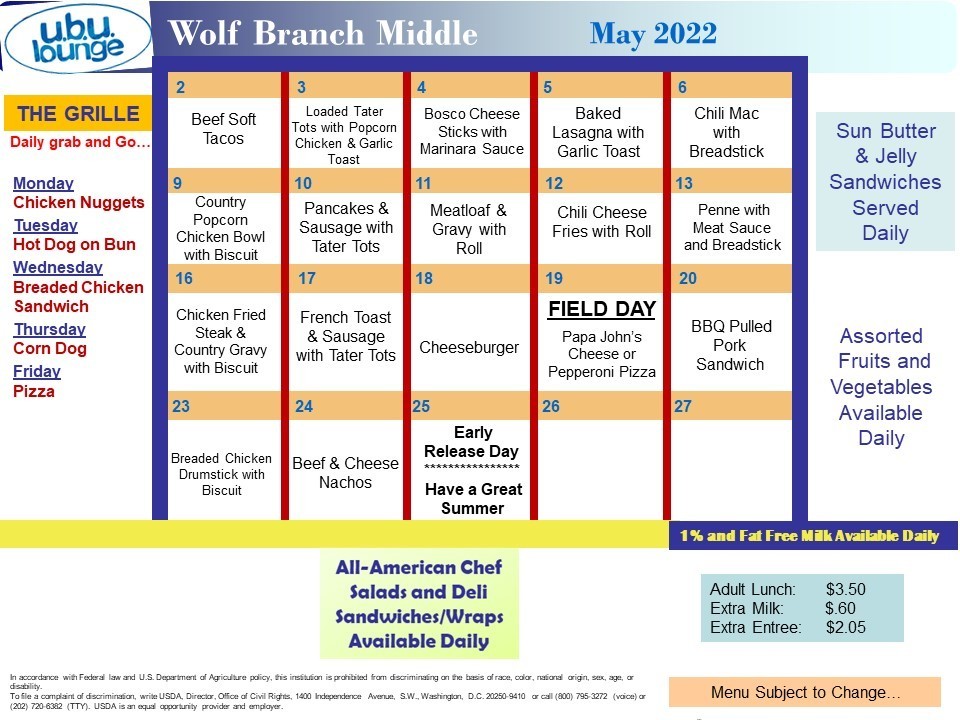 Congratulations to our IPA award winners Amelia Harter and Jillian Ritter!! 💙🐾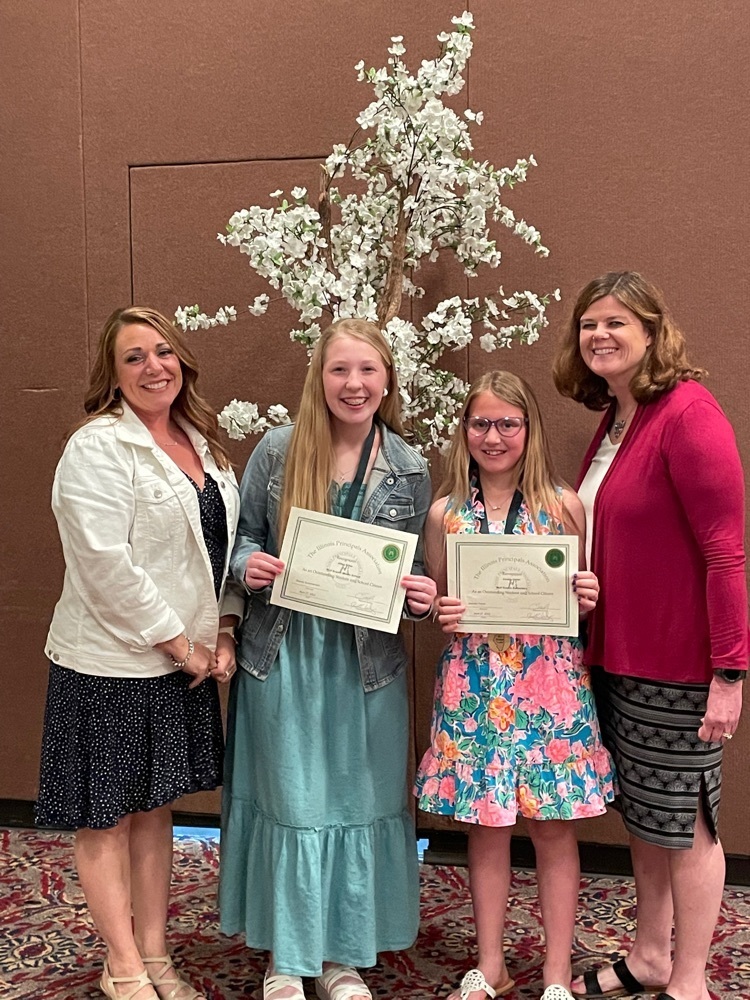 Staff Appreciation Week May 2nd through May 6th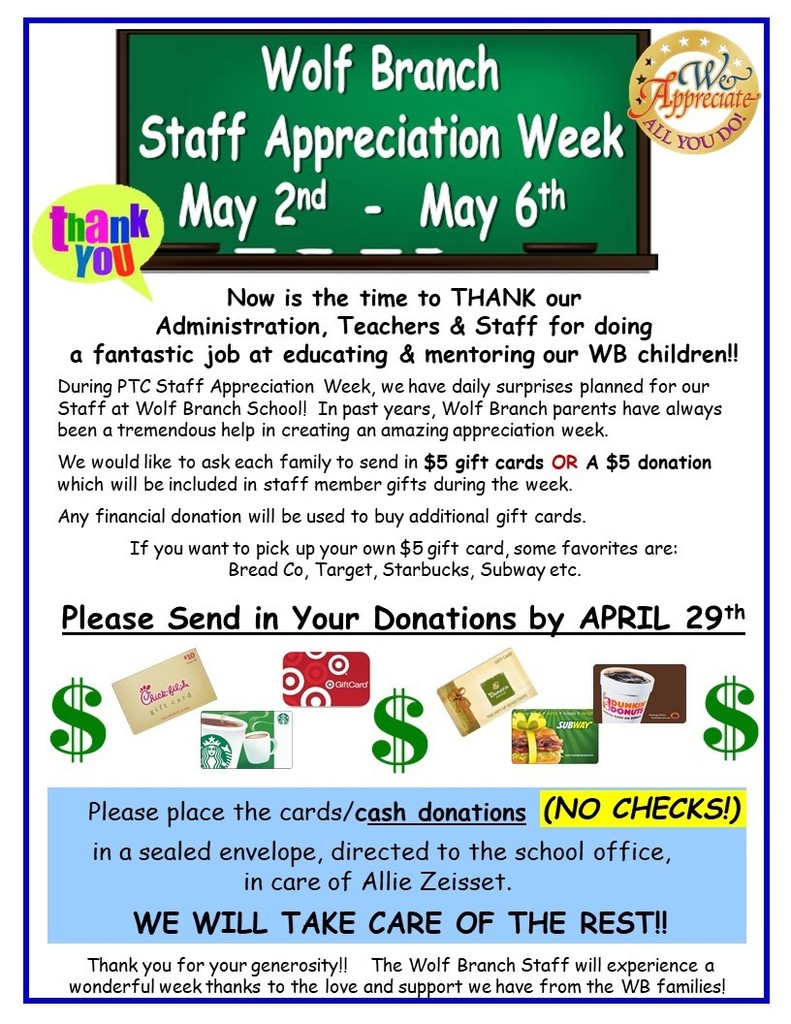 Lending Library By Wolf Branch Alumni - Kyle Cooley